Paper Moon Shiners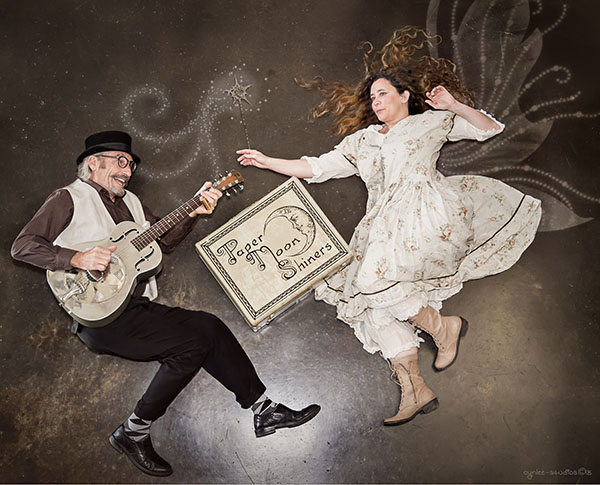 There is a spiritual space between the desire to live a full life and the awareness the devil is always looming. If that space were a location, it would run right through a speakeasy. The lights would be low, libations aplenty, and the music would be as natural and effortless as sweat on a hot delta night.
Comprised of multi-instrumentalist Frank Meyer and vocalist Elena Antinelli, Paper Moon Shiners create that very sound. The Austin, TX band write and perform well-crafted roots, ragtime, early jazz, blues and folk music that is a clear balance of wit, depth and spirit.
The duo's gleefully irreverent stage presence and unlimited creativity are turning heads while their versatility and musicianship consistently take center stage. Two very unique voices, Elena and Frank fearlessly brace their songs with the perfect bone structure of rhythm grounded in groove. The couple's self-produced, self-titled 2013 debut album was well received and gave them a foothold for several U.S. and European tours. In 2017 they shared festival rosters with Ray Wylie Hubbard, Steve Poltz, Billy Strings, James McMurtry and more.
Meyer, a seasoned musical veteran (BB King, Luther Tucker, Gary Primich) met Elena, who had never sang before, at Quiet Valley Ranch, home of the Kerrville Folk Festival in 2007.  Stupefied at her lack of knowing about her own innate talent when he heard her singing along with the radio he slowly convinced her to challenge her glossophobia and to sing in public.  The ensuing result was the birth of Paper Moon Shiners in 2011.  Antinelli's creative background in film, photography and storytelling coupled with Meyer's constant quest for original melodies and songs brings imaginative emotive landscapes to the bands songwriting process as can be seen and heard in their latest release, "Illusions of Composure."
2018's "Illusions of Composure" features Kyle Crusham (Edie Brickell, Ben Harper), John Hagen (Lyle Lovett), Danny Levin (Johnny Cash, Bonnie Raitt, Natalie Cole), Oliver Steck (Bob Schneider) Marvin Dykhuis (Tish Hinojosa) and Richard Bowden (Ryan Bingham), is a vibrant collection of roots-based hoots, wistful waltzes and lowdown blues and ballads.  Along with a Prohibition sound, the genuineness of Paper Moon Shiners' arrangements and recordings make their music more timeless than retro.  "Illusions of Composure" sets the mood for sepia-toned stories of whimsy, longing, and, as in "Ease My Mind," wishes for less complicated lives.
The duo's songs range in subject from the Greek lessons of King Midas to the graveness of realizing one's mortality in "Everybody's Leaving." In every song the instrumentation compliments the lyrics flawlessly. Sparse, jaunty percussion using trashcans, a megaphone and a suitcase, brings vaudevillian humor to the mix. Even P.T. Barnum would have fallen for "Cap Gun Dory." "Black Widow Spider" groans like a steam engine with a southern drawl. Paper Moon Shiners' vintage sound and vaguely unsettling characters have the simultaneous simplicity and complexity of an Edward Gorey pen and ink drawing.